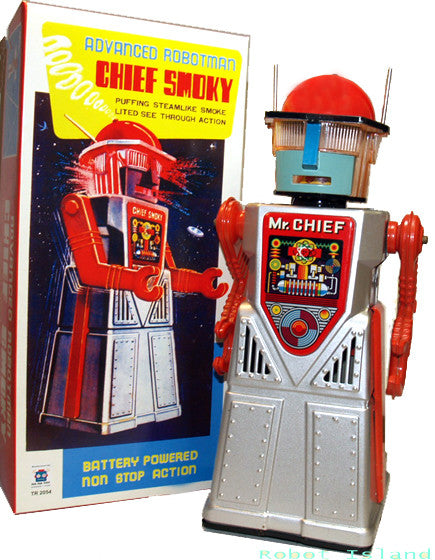 Chief Smoky Robot Tin Mr. Chief Silver
$ 65.00
Mr. Chief Smoky Advanced Robotman Silver.  Mr. Chief stands 12" tall just like the original Robot produced in the 1950's. He moves via motorized wheels in his base, puffs smoke from his head, lighted translucent head, and clanking sound with each puff of smoke!  Beautiful classic 1950's futuristic lithography on his chest depicting electrodes and atom symbol.  True action tends to be a more jerky type dancing motion where he moves and changes direction on his own in more circular type jittery pattern rather than bump and go, or if you place your hand in front of him he will back up.   Tin Space Ships and Robots are adult collectibles not for children.

Produced in Japan originally by Yoshiya in the 1950's Chief Smoky was the first in the Yoshiya skirted robot series which includes Chief Robotman, Radical Robot, Mystery Moonman, Mighty Robot, and Mr. Chief. Complete with original 1960's box graphics.  All tin toys are produced in same authentic manner as in the 1960's via heavy stamping machines, and then hand assembled. Some minor marks/rubs can occur during this unique original process.

Operating Instructions: Always use new fresh batteries for optimum performance. Turn on and wait a few seconds for smoking element to heat up. A well lit area is best to view the white smoke. Once you see the smoke puffing from Robot's cap, then place down on smooth surface for non-stop bump and go action! The motors on Mr. Chief run slower so the smoke can be seen clearly. All Robots are tested and guaranteed working when shipped. If you receive a non working Robot please contact us within 24 hours of receipt and we will replace.